Warning
: Creating default object from empty value in
/home1/pernashg/public_html/HamNews/components/com_myrssreader/views/rss/view.html.php
on line
159
Warning
: Creating default object from empty value in
/home1/pernashg/public_html/HamNews/components/com_myrssreader/views/rss/view.html.php
on line
111
Warning
: Creating default object from empty value in
/home1/pernashg/public_html/HamNews/components/com_myrssreader/views/rss/view.html.php
on line
116
Amateur radio operation on 50MHz around the World
Stephen Cole, GW4BLE Silent Key
Thursday, 01 December 2016 20:30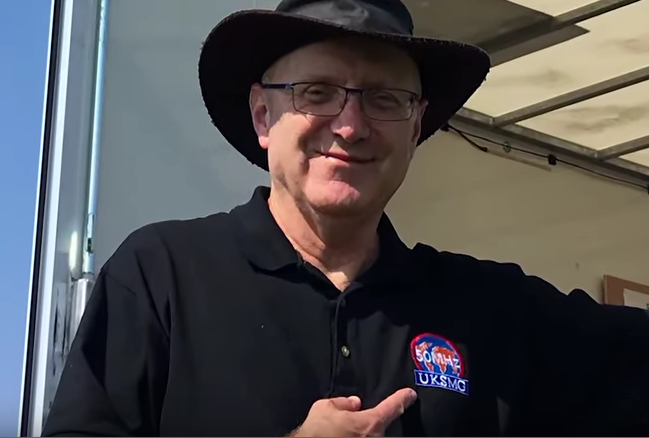 It is with great regret that I announce the passing of my dear friend, Steve
GW4BLE
. Steve passed away at 2:30 this morning at the Royal Gwent Hospital after loosing his battle against cancer. Steve was a keen contester with a string of achievements too many to list here. Steve was the main instigator and lead operator in getting the Three A's Contest Group,
MW5A/P
to put on a 6 metre contest station during Field Day to participate in the UKSMG Summer Es Contest, who won the Ellis Cup this year. Steve was always ready with help and advise for anyone who needed it giving them the benefit of his vast experience in over 40 years in the hobby.
The funeral will be on Thursday the 15th at 2pm. The service will be at the private chapel in Risca.
Address; Cromwell Rd. Risca NP117AH.
Followed by 3pm burial at a churchyard at Dan-y-graig, Graig Road, Risca, Gwent.
Then tea at the local tennis club.(location TBC )
Mandy stresses that all are welcome to all venues.
Family flowers only.
Charity donations to ...
Cancer research Wales.
Our thoughts are with his wife Mandy, son Adam, daughter in law Allison, and grandson William.
CQ WW CW hace un año...
Saturday, 19 November 2016 20:20
Hace un año atras en el CQ WW DX CW 2015 en EA2EA, en la foto EA5GX Sergi, EA3AKY Josep Ma., EA3AVV Ramon, y EA3ALZ Roger.
Contest: 2015 CW
Score: 11,758,080 points
QSO: 6,047
Zn: 201
Cty: 759
Category: Multi-Operator Single-Transmitter
Opr: EA2EA EA2ET EA3AKY EA3ALZ EA3AVV EA5KA EA5GX EC2DX
| | | | |
| --- | --- | --- | --- |
| | Spain | Europe | World |
| Rank | 1 | 13 | 21 |
Mucha suerte este 2016 Imanol !
73
QRV y 73 de XE1/EA3AKY
Saturday, 19 November 2016 19:47
Hola a todos
Despúes de unos meses inactivo he decidido volver a activar el blog.
Actualmente estoy QRV en Ciudad de México, desde donde espero estar activo en pocos meses en 6 metros y en los contest de cw.
Esta semana tuve el placer de compartir cena con algunos amigos del DXXE México: Ramón XE1KK, Alberto XE1NK, Miguel Angel XE1YYD y Joaquín XE1R.
73 y DX !
TY2SN qrv 6 meters
Thursday, 24 September 2015 07:10
Nicolas, F8FQX (ex 5T5SN, TJ3SN

and

TN5SN) is

going

to

Benin, where he will stay for three years. He will operate CW and

SSB

on the HF bands and 6 metres as TY2SN. QSL

via

IZ1BZV

(direct)

and LoTW. [TNX 425 DX News]
I'm sure Nicolas will have a great signal soon from Benin, as he has had allways.
5J0B qrv 6 meters 17 - 27 October
Thursday, 24 September 2015 06:54
Joe, LU1FM and Daniel, LU9FHF will

be

active

as

5J0B

from

San Andres Island (NA-033) on 17-27 October. They will operate SSB

and digital modes on 160-6 metres, and will take part in the CQ

WW

DX SSB Contest. QSL via LU1FM (OQRS on Club Log)

and

LoTW.

[TNX

425 DX News]
TX3X qrv 6 meters 2 - 10 October
Thursday, 24 September 2015 06:47
TX3X will be active from Chesterfield Island on HF and 6 meters, October 2nd to 10th. As the web www.tx3x.com informs, they will use 50.101 on CW and they will have a 7 element yagi for 6 meters donated by HA0DUas well as 500 W. Only workable from Europe by EME if they try...
D4D qrv 6 meters 17-24 October
Thursday, 30 July 2015 14:13
EA1ACP, EA1DVY, EA5HPX, EA7FTR, CX3AN, CX2AM, CX4CR and EB7DX have announced plans they will be active from Boa Vista AF-086, Cape Verde as D4D between October 17-24, 2015. QRV on 80-6m, SSB/CW/RTTY. QSL via EB7DX. [tnx DX World]
T41C qrv 6 meters 15-16 August
Thursday, 30 July 2015 14:08
Operators from Federacion de Radioaficionados de Cuba (FRC), Cuban DX Group and the Cuban Society of Esperanto will be active from Cayo Jutias NA-093 as T41C between August 15-16, 2015. QRV on SSB, CW and Digi; 160m to 70cm including satellites. QSL via N2OO. [Tnx DX World]
NH0J qrv 6 meters 8-13/August
Thursday, 30 July 2015 14:01
Toshi, JR2UYE, Miho, JJ2VLY and Yutaka, JQ2GYU will be active as NH0J from Tinian Island (OC-086) between August 8-13, 2015. QRV on CW, SSB and RTTY; 80 to 6m. Club Log uploads during their activity. QSL via JJ2VLY, LoTW. [tnx DX World]

Warning: Illegal string offset 'active' in /home1/pernashg/public_html/HamNews/templates/mytemplate/html/pagination.php on line 132

Warning: Illegal string offset 'active' in /home1/pernashg/public_html/HamNews/templates/mytemplate/html/pagination.php on line 138

Warning: Illegal string offset 'active' in /home1/pernashg/public_html/HamNews/templates/mytemplate/html/pagination.php on line 132

Warning: Illegal string offset 'active' in /home1/pernashg/public_html/HamNews/templates/mytemplate/html/pagination.php on line 138

Warning: Illegal string offset 'active' in /home1/pernashg/public_html/HamNews/templates/mytemplate/html/pagination.php on line 132

Warning: Illegal string offset 'active' in /home1/pernashg/public_html/HamNews/templates/mytemplate/html/pagination.php on line 138

Warning: Illegal string offset 'active' in /home1/pernashg/public_html/HamNews/templates/mytemplate/html/pagination.php on line 132

Warning: Illegal string offset 'active' in /home1/pernashg/public_html/HamNews/templates/mytemplate/html/pagination.php on line 138