MKARS80 transceptor QRP para 80 metros Manual de montaje y operación en Español
Como los miembros de la Sociedad de radioaficionados de Milton Keynes -MKARS- mostraron un gran interés por un proyecto para la construcción de un transceptor, decidí preparar un kit para construir
el Epiphyte, diseñado originalmente por el Club QRP de la Columbia Británica, en Canadá. Lamentablemente dicho equipo usa una serie de componentes obsoletos, por lo que buscando otros diseños encontré el BITX20 de Ashhar Farhan. Es un transceptor de «baja» tecnología diseñado para usar componentes simples y que puede adaptarse a otras bandas, por lo que rápidamente pude preparar una versión para 80M (v. 1). El diseño actual es una evolución del mismo, ahora en su versión 3.
Aunque se han hecho muchos cambios desde el primer prototipo, se ha mantenido la filosofía original de simpleza del diseño pero incorporando algunas mejoras sustanciales, como la lectura de la frecuencia o la estabilización del OFV con un "Huff and Puff" (Nota del T.: es un estabilizador de osciladores variables en los que un circuito digital compara la frecuencia con una referencia a cristal y aumenta o disminuye -de ahí lo de huff and puff - una tensión de control para mantener la frecuencia estable). El diseño original no contaba con un control de ganancia de RF, por lo que se sobrecargaba fácilmente con las señales de la banda de 80 metros, por lo que el potenciómetro de volumen se desplazó a la entrada del receptor, convirtiéndose en un control de ganancia de RF.
Otro requisito era el montaje de todos los componentes en un circuito impreso, minimizando el cableado y reduciendo el coste. El prototipo utilizaba bobinas Toko, pero son ahora difíciles de conseguir, por lo que se han usado núcleos de bajo coste.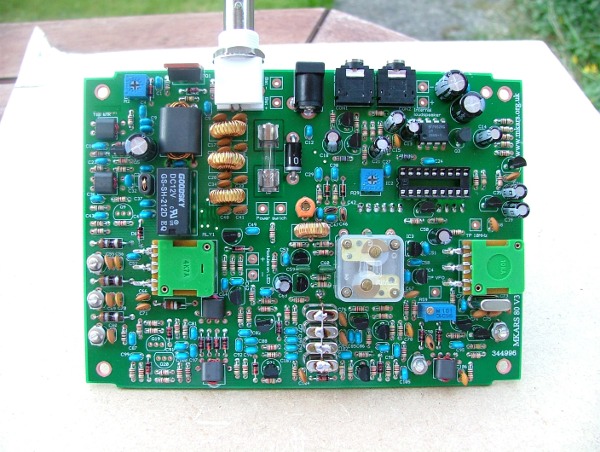 Características
• Cobertura completa de la banda de fonía en 80 m (LSB)
• Potencia de salida > 5 W
• Display de frecuancia con estabilizador "Huff and Puff"
• Monitor de modulación – ayuda a evitar la sobremodulación
• Voltímetro – ayuda cuando se opera con baterías
• Protección contra polaridad inversa (protegido con fusible)
Parámetros típicos ( alimentación 13.8V)
Frecuencia de operación - 3.5 – 3.8 MHz
Potencia de salida RF - > 5 W
Sensibilidad - MSD <  1 μV
Frecuencia intermedia -  9.998 MHz
Potencia de salida audio - Aprox. 0.5 W
Consumo  - recepción: 120 mA (sin señal),
transmisión 1.2 A
Voltaje de alimentación - 10 – 16 V
Micrófono - Electrect de bajo coste
Altavoz - 8 Ω (puede usarse con  4 Ω)
Pagina del MKARS80 Transceiver kit
MKARS80 Manual de montaje y operación version 1.3 en Español